Maunal Handling, MEWP & Safety Harness Training Courses in Armagh & Belfast
Here at Procon Skyhire, our core values revolve around the safety of our clients, which is why we offer a range of training courses. Our courses will provide the fundamental training requirements to anyone wishing to operate or handle machinery, allowing them to conduct themselves using the utmost safest procedures, adhering to safety guidelines, and ensuring accountability for both themselves and others around them.
You can attend our training courses in one of our Armagh & Dublin sites. Or if you'd prefer, we can come to you, as we also offer site visits.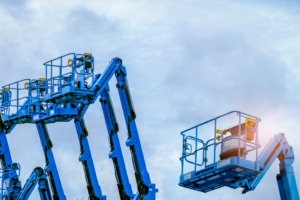 Mobile Elevating Work Platforms (MEWP)
Mobile Elevating Work Platforms Certification NI
This course is for anyone who may be required to operate mobile elevating platforms (MEWPs). This course will train you to prepare and safely operate various types of MEWPs (cherry pickers, aerial lifts, or scissors lifts). The course includes both theory & practical elements, with tests being conducted for each.
Participants will receive a PAL card upon passing.
The working at heights training course covers the basic principles of health & safety, regulatory requirements, risk assessment procedures, fall protection equipment, ladder, scaffold & MEWP. The course provides the necessary information needed to be able to successfully deal with working at heights risk and control measures, from planning it to carrying it out with the correct equipment.
The aim of the Harness Safety training course is to ensure that anyone who uses safety harnesses and lanyards has a comprehensive understanding of the different types available, together with the appropriate Health and Safety knowledge involved in Safety Harness and Lanyards training.
If you're working at height, it's imperative you do all you can to keep safe and prevent the risk of injuries. A quality safety harness is key.
The Training course is applicable to construction companies, building owners, health & safety, maintenance & facilities personnel. In other words, anyone who works or is responsible for those working at height using personal fall protection that requires the use of harnesses and PPE.
This Manual Handling course is designed to teach the basics of moving and handling objects in the workplace safely to minimize incidences of MSDs, reduce the risk of injury to employees and increase productivity through absence avoidance. The course will develop your knowledge of manual handling and the practical steps that can be taken to minimise and control risks.
As an employer, you must protect your workers from the risk of injury associated with hazardous manual handling. Although manual handling training is not mandatory for all employees, the law sets out how employers must deal with the risks associated with manual handling through:
Avoiding hazardous manual handling, so far as is reasonably practicable
Assessing the risk of injury from any hazardous manual handling operations that cannot be avoided
Reducing the risk of injury from hazardous manual handling to as low as reasonably practicable