Choose an access platform from Procon Skyhire and get what you want, when you want it, every time. TEL: 01 513 3306
PROCON SKYHIRE Dublin - Cherry Picker Lift Hire, Telehandlers & Teleporter Hire
We offer a comprehensive fleet of powered access platforms for working at height including electric scissors, diesel scissors, electric cherry pickers, diesel cherrypickers, telehandlers, lorry mounted platforms and lorry mounted crane services. With offices based both in NI and ROI, Procon Skyhire are ideally located to respond quickly and provide high quality height solutions across Ireland.
Powered Access Equipment Hire Experts, Dublin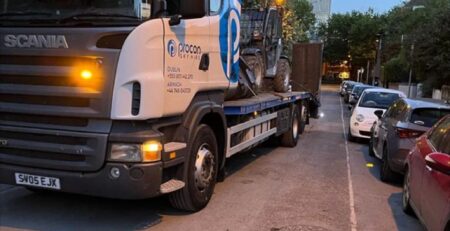 The Whacker Neuson TH522 is popular with our contractors and local customers as it has many benefits such as: TH522 [...]
Read More
Work at Heights Safely with Dublin's Leading Height for Hire Service
How to Ensure Safety When Hiring Mobile Elevating Work Platforms for Use on Construction Sites in Dublin
Mobile elevating work platforms (MEWPs) are essential tools for construction projects, especially for tasks that require workers to reach elevated areas. However, their use can also pose significant risks to workers, especially if proper safety measures are not followed.
This safety guide provides essential information for safely hiring and using MEWPs on Dublin construction sites.
Hiring MEWPs
a. Choose a reputable supplier: When hiring MEWPs, ensure that you choose a reputable supplier with a proven track record of providing safe and reliable equipment. Ask for references and check their previous work to ensure they meet your standards.
b. Check insurance: Before hiring MEWPs, verify that the supplier has adequate insurance coverage to protect you and your workers in case of any accidents or incidents.
c. Equipment inspection: Before using the MEWPs, conduct a thorough inspection to ensure that it is in good working condition. Check for any visible signs of wear or damage, and ensure that all safety features are functional.
Training and Certification
a. Operator training: All operators of MEWPs must undergo comprehensive training to become proficient in using the equipment safely and effectively. The training should cover topics such as:
Basic principles of MEWP operation
Safety procedures and protocols
Identification of potential hazards and safety risks
Emergency procedures and evacuation plans
b. Certification: Once the operator has completed their training, they should be certified to operate MEWPs. This certification should be renewed periodically to ensure that the operator remains competent and knowledgeable about the latest safety procedures and regulations.
Site Preparation
a. Site assessment: Before using MEWPs on a construction site, conduct a thorough site assessment to identify potential hazards and safety risks. This includes assessing the stability of the ground, the proximity of overhead electrical cables, and any other potential obstacles that may impede the safe operation of the MEWP.
b. Ground stability: Ensure that the ground is stable enough to support the weight of the MEWP. If the ground is unstable, take steps to secure the area before using the equipment.
c. Overhead electrical cables: MEWPs must be positioned at least 10 meters away from overhead electrical cables. If it is not possible to maintain this distance, the electrical cables must be de-energized or protected to prevent any electrical hazards.
Equipment Setup
a. Proper anchoring: MEWPs must be anchored securely to the ground to prevent them from tipping over. Ensure that the anchors are securely fastened to the ground and that the MEWP is balanced properly.
b. Safety barriers: Install safety barriers around the MEWP to prevent workers from falling or coming into contact with the equipment. The barriers should be sturdy and should extend at least 1 meter beyond the platform on all sides.
c. Platform capacity: Ensure that the platform is not overloaded. The weight capacity of the platform must not be exceeded, and workers must not stand on the railing or the edge of the platform.
Operating the MEWP
a. Pre-operation checks: Before using the MEWP, conduct a pre-operation check to ensure that all safety features are functioning properly. Check the brakes, steering, and controls to ensure that they are working correctly.
b. Safe movement: When operating the MEWP, ensure that it moves smoothly and that workers are not exposed to any hazardous areas. Do not drive the MEWP with the platform extended, and never drive it with workers on the platform.
c. Emergency procedures: Workers must be trained in emergency procedures, including how to evacuate the platform in case of an emergency. Ensure that emergency stop buttons and alarms are easily accessible and that workers know how to use them.
Maintenance and Inspection
a. Regular maintenance: Regular maintenance is essential for ensuring the safe operation of MEWPs. Schedule regular maintenance checks with the supplier to ensure that the equipment is functioning properly and that all safety features are in good working condition.
b. Inspection checklist: Develop an inspection checklist to ensure that all essential safety features are checked before each use. The checklist should include items such as brakes, steering, controls, safety barriers, and emergency stop buttons.
Conclusion
In conclusion, the safe use of MEWPs on Dublin construction sites requires careful planning, preparation, and attention to detail. By following these guidelines and ensuring that workers are properly trained and equipped, you can help to prevent accidents and ensure the safe and efficient operation of MEWPs. Remember, safety must always be the top priority when using MEWPs on construction sites.
Cherry Picker Hire in Dublin – FAQ
I am working on uneven ground. How do I steady the machine?
If you are working on uneven ground you will need an access machine with outriggers. Check the location to make sure you have enough room to extend the outriggers.
I need an access platform but the entrance is narrow – what can I do?
If there is narrow access to your location you need a specialised machine, we have a range of MEWP's suitable for inside use for narrow hallways etc.
Are there any potential access considerations I should check at my location before I hire a machine?
You should consider the following:
• What is the access like between the machine's drop-off point and working location?
• Are there steps or pinch-points along the way?
• Do you have a floor with a specific weight restriction?
• What is the voltage – 110v or 220v?
• Check for cables overhead.
How long can I hire the machine for?
There is no minimum hire period. A machine can be hired for 1 or 2 days; however, a minimum charge rate of 3 days hire will be applied.
Typically, there is no maximum limit on the duration of a hire.
Can I extend the hire?
You can extend your hire by calling: +447542285441 or email : info@proconskyhire.com and speak to one of our customer service agents who will be able to take additional payment over the phone.
What do I do in the event of a breakdown?
Should you experience any issues with the machine whilst on hire or require technical information, please phone +447542285441 (Monday to Friday, 09.00 to 17.30).
How do I charge an electric machine?
All electric/bi fuel machines are powered by rechargeable batteries. To recharge the batteries, the built-in charger must be connected to a suitable 110V supply or to the mains electric supply using a suitable 110v transformer and lead.
How do I refuel a diesel machine?
All diesel machines will be supplied with a full tank of fuel. Should you need to refuel the machine during the hire, it can be refuelled using white diesel or HVO.
Local Links: