Choose an access platform from Procon Skyhire and get what you want, when you want it, every time. PHONE:  028 9013 6438
PROCON SKYHIRE Belfast - Low Cost Cherry Picker Hire, Boom Lifts, Teleporters & Scissor Lifts
We offer a comprehensive fleet of powered access platforms for working at height including electric scissors, diesel scissors, electric cherry pickers, diesel cherrypickers, telehandlers, lorry mounted platforms and lorry mounted crane services. With offices based both in NI and ROI, Procon Skyhire are ideally located to respond quickly and provide high quality height solutions across Ireland.
Powered Access Equipment Hire Experts in Belfast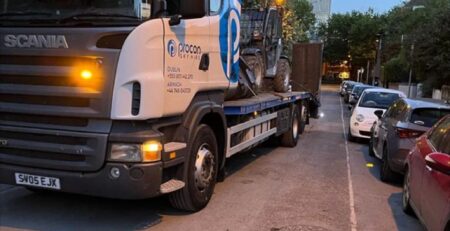 The Whacker Neuson TH522 is popular with our contractors and local customers as it has many benefits such as: TH522 [...]
Read More
Work at Heights Safely with Belfast's Leading Height for Hire Service
Cherry Lift Hire Equipment Availability Schedule – Belfast Depot
| | |
| --- | --- |
| Cherry Picker Lift Hire Equipment | AVAILABILITY |
| Teleporters/ Telehandlers | 24 hours |
| Battery Scissor Lifts | 24 hours |
| Diesel Scissor Lifts | 24 hours |
| Battery Boom Lifts | 24 hours |
| Articulated Boom Lifts | 24 hours |
| Telescopic Boom Lifts | 24 hours |
Cherry Picker Hire in Belfast – FAQ
How much does powered access equipment delivery or collection cost?
Our rates for delivery and collection vary depending on your location; you'll receive a quote when you place your reservation. Deliveries are normally made from Monday morning until Saturday at noon.
I am working indoors. Can I use a powered access machine inside?
Yes, you can. If you are working inside, you will need to hire a battery machine.
If you are working outside, you will need a diesel aerial platform.
There are obstacles in my way – how will my hoist reach where I need access to?
If there are obstacles in the way, such as a low wall, you will need an articulated boom lift or even one of our specialised machines.
I am working on soft ground. There are also steps in the way. What can I do?
If you are working on soft ground or need to negotiate steps you need to use a powered access machine with crawler tracks.
I am working indoors on a decorated finished floor. How do I stop the machine from marking it?
We have a range of lightweight machines or use a machine with the correct tyres so the floor will not be marked. You will need to check the weight restrictions on the floor and match it with an aerial platform that suits.
Does my hire fee include insurance?
It is the hirer's responsibility to make sure the correct insurances are in place.
How do I know what type of powered access machine to use?
In order to go straight up you need to use a battery scissor lift or a diesel scissor lift.
If you are reaching out, you will need an articulated boom lift or a stick boom machine. When calling to make the reservation of a machine we will give you a helping hand and take details from you and try determine the most suitable machine for the job.
I am working at various locations. How do I get my access equipment from one site to another?
If you are working at various locations most of our machines will be able to be transported via plant trailer or if you require one of our larger lifts to be moved, we may be able to organise a lorry for some extra cost.
We Offer The Most Competitive Cherry Picker Hire Rates in Belfast
Cherry Picker Hire Safety Guide for Construction Sites in Belfast
A cherry picker is a type of aerial work platform that is widely used in construction sites in Belfast for various tasks such as window cleaning, electrical maintenance, painting, and other high-level works. It provides a convenient and safe means of reaching high places, but it is essential to follow proper safety procedures to avoid accidents.
Here is a comprehensive safety guide for those who are planning to hire a cherry picker for their construction sites in Belfast.
Choose a Reliable Cherry Picker Hire Company
The first step to ensuring the safety of your cherry picker operation is to choose a reputable and reliable hire company. Look for a company that is ISO 9001 certified and has a good track record of providing safe and reliable cherry pickers. Make sure that the cherry picker you are hiring meets the relevant safety standards and is regularly maintained.
Conduct a Risk Assessment
Before starting the cherry picker operation, it is important to conduct a risk assessment to identify any potential hazards and risks associated with the task. This will help you to develop a safe working plan and ensure that all necessary safety measures are in place.
Train the Operators
Cherry pickers are complex machines, and it is crucial that the operators are properly trained to use them safely. All operators must be trained on the specific cherry picker they will be using, including how to control and maneuver the machine, how to inspect it before use, and how to use the safety features.
Wear the Right Protective Equipment
Operators must wear the appropriate personal protective equipment (PPE) to ensure their safety while using the cherry picker. This includes a hard hat, safety glasses, gloves, and a harness if required. Make sure that the PPE meets the relevant standards and is in good condition.
Follow the Manufacturer's Instructions
The cherry picker must be used in accordance with the manufacturer's instructions and guidelines. This includes following the weight limit, ensuring that the machine is used on a level and stable surface, and not exceeding the maximum height limit.
Check the Weather Conditions
Weather conditions can greatly affect the stability and safety of the cherry picker. Make sure that you check the weather conditions before starting the operation, and do not use the machine in high winds or during thunderstorms.
Secure the Work Area
Before starting the operation, make sure that the work area is secured and that the cherry picker is placed on a level and stable surface. This will ensure that the machine does not tip over and that the operator is not at risk of falling.
Use the Safety Features
All cherry pickers are equipped with various safety features such as guardrails, emergency stop buttons, and outriggers. Make sure that these features are used correctly and that the operator is familiar with their purpose and how to use them in an emergency.
Conduct Regular Inspections
Regular inspections of the cherry picker must be conducted to ensure that it is in good working condition and that any potential hazards are identified and addressed. This should be done before and after each use, and any defects or malfunctions should be reported immediately.
Follow the Safe Working Plan
A safe working plan should be developed for each task that will be performed using the cherry picker. This plan should outline the steps to be taken to ensure that the task is completed safely, including the use of PPE, the positioning of the cherry picker, and the procedures to be followed in the event of an emergency.
In conclusion, using a cherry picker on a construction site in Belfast can be a convenient and safe way to carry out high-level tasks, but it is important to follow proper safety procedures to minimize the risk of accidents.
By choosing a reputable hire company, conducting a risk assessment, training operators, wearing the right protective equipment, following the manufacturer's instructions, checking the weather conditions, securing the work area, using the safety features, conducting regular inspections, and following a safe working plan, you can ensure that your cherry picker operation is safe and successful.
Remember, the safety of everyone on the construction site should be your top priority, and taking the time to properly prepare for the cherry picker operation will help to prevent accidents and ensure a successful outcome.
If you have any questions or concerns about the use of a cherry picker, be sure to consult with our expert staff.
CONTACT US:
Suite J, Formation Works
Edgewater Office Park
11 – 12 Edgewater Rd
Belfast
BT3 9JQ
TEL: 028 9013 6438
DEPOTS: Monaghan, Dundalk, Armagh
LOCAL LINKS: